Bella Milagro Duggar (born November 8, 2019) is the daughter of Josiah Duggar and Lauren Duggar.
Early life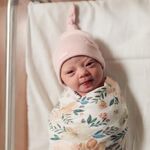 On May 20, 2019, Josiah and Lauren Duggar announced that they were expecting their first child, a rainbow baby.
"Every good and perfect gift is from above and we are looking forward to this new season of parenting together!"
On June 25, 2019, Josiah and Lauren shared that they are having a daughter. They found out via a blood test, and gave the results to Lauren's sister Lily, who arranged the family gender reveal party where a balloon was popped to reveal pink confetti. In a joint statement to Us Magazine, the couple said:
"We are so grateful that God has blessed us with a sweet baby girl! If she only knew how loved she is already and how many people are already praying for her! She truly is a gift… a miracle from God".
Her birth was announced on November 11, 2019. She was born on November 8, 2019, at 4:24 p.m., weighing 6 pounds and 5 ounces, measuring 18.5 inches long. Of the birth, her parents said:
"After a long and difficult labor, our girl arrived. When we finally got to see and hold our precious Bella Milagro all the pain instantly went away. We can't believe she is ours — she is so perfect! She definitely has lived up to her name which means, 'beautiful miracle'. Today we are basking in God's goodness!".
Career
Television
She frequently appears on the TLC show Counting On. Her birth was featured in the episode "A Beautiful Miracle".
Gallery