Brooklyn Praise Duggar (born February 19, 2021) is the third child and second daughter of Joseph Duggar and Kendra Duggar.
She is the sister of Garrett Duggar and Addison Duggar.
Early life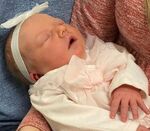 On August 19, 2020, Joseph and Kendra Duggar announced that they were expecting their third child, due February 2021.
"We are so excited to announce that we have a tiebreaker coming in February. Baby #3 is on the way! We are so excited to see Garrett and Addison's reaction when they meet the new baby. Garrett has already been such a loving big brother to Addison and we look forward to Addison's reaction to a life size baby doll. Life is full of surprises and we're thrilled that it is a sweet baby that surprises us this time!"
On November 30, 2020, Joseph and Kendra revealed that they were expecting a girl.
"Our nursery is going to be full of pink, as we get ready for our soon coming little one. This sweet tiebreaker is a girl!!! The boys are outnumbered now! We are already in love with her and cannot wait to see her beautiful face soon. We appreciate all of your prayers for a safe arrival."
Her birth was announced on February 23, 2021. Brooklyn Praise Duggar was born at 7:48 p.m. on February 19, 2021, in Arkansas. She weighed 7 pounds and 3 ounces, and was 20 ¼ inches long. Her first name is in honor of her paternal aunt Josie Duggar's middle name. Her due date was revealed to be March 1, 2021. Her birth was featured on the Counting On episode "A New Life".
"It seems like just yesterday we were at the altar dreaming of a future together, including having children. Wow, here we are with another new addition and we couldn't be more thankful for her. It seems the entire family is already in love with Brooklyn Praise. Children really are an inheritance from the Lord and we are so honored to be her parents! Thank you for all the prayers and well wishes."
Career
Education
Along with her siblings, Brooklyn will be homeschooled growing up.
Television
Brooklyn is featured on the TLC show Counting On. Her birth was featured on the episode "A New Life".
Gallery