Claire Yvonne Duggar (née Spivey) (born February 27, 2001) is the first child and first daughter of Robert Spivey, Jr. and Hilary Spivey.
She is the sister of Robert Spivey III, Paige Spivey, Wyatt Spivey, Taylor Spivey, and Carson Spivey.
She is the wife of Justin Duggar.
Early life
Claire Yvonne Spivey was born on February 27, 2001, in Texas, to Robert Spivey, Jr. and Hilary Spivey. She was the couple's first child, and they went on to have five more children after her.
Claire was baptized on March 29, 2015.
Along with her siblings, Claire was homeschooled growing up. She and her siblings were raised as active participants of Bill Gothard's Institute in Basic Life Principles, and regularly attended the yearly Advanced Training Institute conferences in Big Sandy, Texas. She graduated on April 14, 2018.
Claire is described as talented, kind, determined, and caring. She enjoys hanging out with family and friends and snowboarding.
Personal life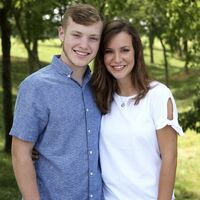 Courtship
On September 21, 2020, it was announced that Claire was courting Justin Duggar. They have known each other almost their entire lives, but reconnected on April 26, 2019. Claire revealed after their engagement that they had been courting since September 2019. Claire and Justin began courting on September 6, 2019. Their courtship announcement is featured on the Counting On episode "A Quarantine Courtship". On their courtship they said:
"Claire and I are excited to share that we are in a courtship", Justin says. "God brought Claire in my life and I wasn't really expecting it, but He brought her along right when I needed her." "I'm really looking forward to the memories to come spent with him", Claire says. "I'm excited to see what the Lord holds for us in the near future." "I just knew that she was the one", Justin says. "Claire has a lot of good qualities and I can sit here and tell you all of them, but there are so many good things that I see in her. I'm so blessed to have her in my life."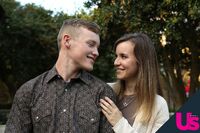 Engagement
Claire and Justin announced their engagement on November 16, 2020, the day after Justin's 18th birthday. They got engaged on November 5, 2020, in Texas. On their engagement they said:
"There is nothing comparable to finding the one you are meant to spend your life with. We know we have found that in each other. We cannot wait to be married and are looking forward to a life together of faith in Christ, love for one another, and happiness!"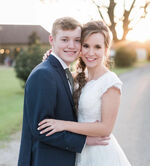 Marriage
On February 26, 2021, Claire married Justin Samuel Duggar at The Orchard Event Venue and Retreat in Azle, Texas. The couple shared their first kiss at the altar. The wedding was officiated by David Waller. Claire's matron of honor was her mother Hilary. Her bridesmaids were her sister Paige, her aunt Gari-Anne Smith, Justin's sister Johannah, Justin's sister-in-law Abbie, and one unknown friend. The flower girl was Claire's sister Carson. Justin's best man was his brother Jason. His groomsmen were his brothers John-David, James, and Jackson, his brother-in-law Austin, and Claire's brother Robby. The ring bearers were Justin's nephews Michael and Marcus and Claire's brothers Wyatt and Taylor. The ushers were Justin's friends Jackson Bates and Warden Bates. Justin's brother Jason was a singer at the wedding. Their wedding is featured on their YouTube channel.
Their honeymoon destination is unknown.
Career
Construction
Claire works as a secretary at her father's business, Spivey Construction, in Fort Worth, Texas.
Wedding involvement
Claire was the flower girl at her aunt Gari-Anne Atherton's wedding to Brandon Smith on October 9, 2009.
She was a bridesmaid at her friend Kord Etbauer's wedding to Grace Wikstrom on December 19, 2020.
Gallery