Evangeline Jo Vuolo (born November 22, 2020) is the second child and second daughter of Jeremy Vuolo and Jinger Vuolo.
She is sister of Felicity Vuolo.
Early life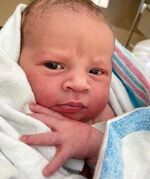 On May 28, 2020, Jeremy and Jinger Vuolo announced that they are expecting their second child. They also revealed that the baby will be a girl and that she is due in November 2020.
"We are so excited. Felicity is going to have to have a sister. Everything looks great with the baby. We're so thankful. Had a lot of check-ups and we're just really, really excited. We told Felicity, but she doesn't quite understand everything yet. Not being 2 yet, but she, she comes up to my belly and says, 'Baby, baby'."
On July 6, 2020, Jinger posted a photo on Instagram stating that she was 20 weeks pregnant. This would put the baby's due date at November 23, 2020.
Her birth was announced on November 25, 2020. At 11:26 pm on November 22, 2020, Evangeline Jo Vuolo was born. She weighed 7 pounds and was 20 inches long.
"We've got good news! Our baby girl, Evangeline Jo, arrived quickly and safely on Sunday night. Jinger is recovering very well, enjoying finally being able to hold her little angel. Evangeline means 'good news' and Jo is after Jeremy's middle name, Joseph. As for Felicity, she is in love with her little sister but has no idea how much sharing is in her future. We are so grateful to God for this beautiful gift!"
In a video published the day after arriving home from the hospital, Jinger and Jeremy gave an update as well as revealing that her named is pronounced 'Evange-LINE' and not 'Evange-LEEN'.
"Baby girl's been doing amazing. She is doing great with her eating, sleeping–she loves to sleep. And we have lots of wonderful help from family, so it's been an amazing time. Felicity's really been loving having Evie around. She was super excited when she got home, and she's going to be a great big sister."
Gallery