Evelyn Mae Forsyth (born August 21, 2020) is the second child and only daughter of Austin Forsyth and Joy-Anna Forsyth.
She is the sister of Gideon Forsyth.
Early life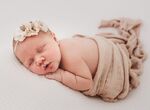 On March 18, 2020, Austin and Joy-Anna Forsyth announced that they were expecting their second child. They also revealed that the baby would be a girl, and that she was due on August 19, 2020.
During her pregnancy, Joy-Anna updated her followers on Instagram on how her pregnancy was going. On March 26, 2020, she posted a photo stating that she was 19 weeks pregnant. On April 14, 2020, she posted a sonogram stating that she was 21 weeks pregnant. On May 6, 2020, she posted a photo stating that she was 25 weeks pregnant. On June 10, 2020, she posted a photo stating that she was 30 weeks pregnant. On August 16, 2020, she posted a photo stating that she was 39 weeks pregnant. She posted a photo to Instagram on her due date, August 19, stating that she was 40 weeks pregnant and impatiently awaiting her daughter's arrival. Her account then went silent for five days, making people guess that she had given birth.
On August 24, 2020, Joy-Anna and Austin announced that their daughter had been born at 2:12 p.m. on August 21, 2020. She weighed 8 pounds and 5 ounces, and was 19 ½ inches long. They didn't reveal her name at that time. Of her birth, her mother said:
"To say my heart is full is an understatement. We have been dreaming of this day and are so happy to announce that our baby girl arrived August 21st at 2:12 p.m. weighing 8 lbs., 5 oz. and is 19.5 inches long! She has the best personality, is easy going, and loves to be held! She has her nights and days mixed up, but honestly, I love it! Getting to spend that quiet, quality time with her through the night has been SO special! We are grateful for all the love and prayers that have come our way during this pregnancy."
On August 27, 2020, her name was revealed to be Evelyn Mae Forsyth. She shares a name with her mother's maternal aunt Evelyn Ruark, though her mother isn't believed to have a close relationship with her aunt.
Health
After her birth, Evelyn remained in the hospital due to high jaundice levels. Her mother said that she had tested positive for Coombs. She was released after a few days once her levels became normal.
At her one month checkup, her pediatrician found a bump on the back of her head. The bump could mean that her skull is fusing too quickly, which could cause brain damage. She was sent to a craniofacial doctor. Her x-rays showed that there were no issues.
Career
Education
Along with her brother, Evelyn will most likely be homeschooled growing up.
Television
Evelyn has appeared on the TLC show Counting On. Her birth was featured on her parents' YouTube channel.
Gallery