Fern Elliana Seewald (born July 18, 2021) is the fourth child and second daughter of Ben Seewald and Jessa Seewald.
She is the sister of Spurgeon Seewald, Henry Seewald, and Ivy Seewald.
Early life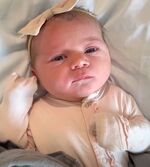 On February 18, 2021, Ben and Jessa Seewald announced that they were expecting their fourth child, due Summer 2021. In the announcement, they revealed that this child would be a "rainbow baby" after suffering a miscarriage in 2020. Of the pregnancy they said:
"After the heartbreaking loss of a baby last year, we're overjoyed to share that another little Seewald is on the way. The pregnancy is going smoothly, and both baby and Jessa are doing well. We are so grateful to God for the precious gift of a new life! The kids are delighted, and we can hardly wait to welcome this little one into our arms this summer."
In a YouTube video posted on April 1, 2021, Ben and Jessa went with their kids to find out the gender of their baby. The gender wasn't revealed in the video.
In a YouTube video posted on June 11, 2021, Jessa stated that she was in her third trimester, but didn't reveal an actual due date nor the gender of the baby. She did say that she was having a hospital birth after having post-birth hemorrhaging after delivering Spurgeon and Ivy at home.
Her birth was announced on July 19, 2021. Fern Elliana Seewald was born at 8:10 p.m. on July 18, 2021, at Washington Regional Medical Center in Fayetteville, Arkansas. She weighed 8 pounds and 5.9 ounces, and was 21 inches long. On July 19, 2021, Jessa posted part one of a birth vlog on her YouTube channel. In the video, Jessa revealed that her due date was July 17, 2021. The video ended with her and Ben entering the hospital on July 18, 2021. She promised that part two would be up "soon". The second part of the birth vlog was posted the following day, featuring Fern's birth and revealing her gender and name.
Fern is described as happy and full of smiles.
Career
Education
Along with her siblings, Fern will be homeschooled growing up.
Gallery