Frederick Michael Dillard (born July 7, 2022) is the third child and third son of Derick Dillard and Jill Dillard.
He is the brother of Israel Dillard and Samuel Dillard.
Early life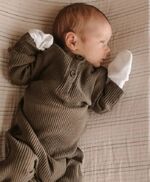 On February 27, 2022, Derick and Jill Dillard announced that they were expecting their third child, due July 2022. They also said that they would be finding out the gender soon.
"We've been keeping a little secret! Ever since we were devastated last fall by the miscarriage of our sweet baby, River Bliss, we have prayed that, if it was God's will, He would bless us with another baby. We are excited to announce that God has answered our prayers and we are expecting our rainbow baby due July 2022! We are so thankful for a healthy baby and pregnancy so far and we look forward to finding out the gender soon!"
On March 23, 2022, Derick and Jill revealed that the baby would be a boy.
His birth was announced on July 11, 2022. Frederick Michael Dillard was born at 5:16 p.m. on July 7, 2022, in Arkansas. He weighed 7 pounds and 6 ounces, and was 20 inches long. Frederick was born via a planned C-section. His first name is in honor of his father Derick and his paternal grandfather Rick Dillard. His middle name is in honor of Derick's middle name. His parents revealed that they would call him Freddy. His due date was revealed to be late July 2022.
Health
After he was born, Frederick was placed on a breathing tube and a feeding tube. He was later released from the hospital without them.
Career
Education
Along with his siblings, Frederick will either be homeschooled or enrolled in public school growing up.
Gallery