Gideon Martyn Forsyth (born February 23, 2018) is the first child and only son of Austin Forsyth and Joy-Anna Forsyth.
He is the brother of Evelyn Forsyth.
Early life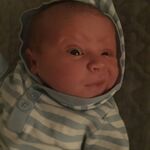 On August 30, 2017, Austin and Joy-Anna Forsyth announced on the Duggar family website that they were expecting their first child.
On October 2, 2017, Joy-Anna shared a photo of her baby bump with a caption stating that the baby was "already about the size of a bell pepper and weighs around half a pound!!!".
According to the Duggar family blog, which is run by friends of the family, the baby was due in early March 2018, and the couple had decided not to learn the gender of the baby in advance.
On February 13, 2018, the Forsyths posted a photo with the hashtag #9daystillduedate, indicating that the due date was February 22, 2018.
Gideon Martyn Forsyth was born at 3:39 p.m. on February 23, 2018. He weighed 10 pounds and 3 ounces, and was 22 inches long. On February 26, 2018, his birth was announced on the Duggar family website, and his parents released the following joint statement on the TLC website:
"We are blessed beyond measure with the arrival of our son, Gideon Martyn Forsyth." say Joy and Austin. "Looking at our child for the first time was such an incredible moment! God is so good, and we are so thankful."
Although a video about preparations for his birth included mention of a birthing pool being prepared at home, pictures released after his birth seemed to suggest that he may have been born in a hospital.
A few months after the birth, the couple shared more details, both in magazine interviews and on a TLC special. After 20 hours of laboring at home, Joy-Anna was rushed to the hospital for an emergency C-section, due to the fact that the baby was breech.
Career
Education
Along with his sister, Gideon will most likely be homeschooled growing up.
Television
Gideon is frequently featured on the TLC show Counting On. His birth was featured on the episodes "Joy Gives Birth" and "A Birth-day and a Birthday".
Wedding involvement
Gideon was a ring bearer at his uncle Jeremiah's wedding to Hannah Wissmann on March 26, 2022.
Gallery