Henry Wilberforce Seewald (born February 6, 2017) is the second child and second son of Ben Seewald and Jessa Seewald.
He is the brother of Spurgeon Seewald, Ivy Seewald, and Fern Seewald.
Early life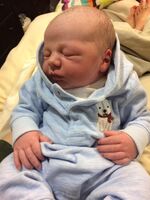 On August 23, 2016, Ben and Jessa Seewald announced they were pregnant with their second child, who was due in February.
On October 19, 2016, TLC aired the Counting On episode "Jessa's Announcement", where Ben and Jessa announced to Jessa's family that they were expecting their second child.
At 4:26 a.m. on February 6, 2017, Jessa gave birth to her second son. He weighed 8 pounds and 11 ounces and was 21 ¾ inches long.
"Mom and baby are doing well. We are so thankful to God for this precious gift of life and are excited to be a family of four! Thanks to everyone for your prayers and well wishes!"
On February 7, 2017, the Counting On episode "The Bachelor Party" featured Ben and Jessa learning the gender of their second child.
On February 13, 2017, the couple announced that their son was named Henry Wilberforce Seewald. They chose the name Henry mostly because Jessa liked it and partially after seventeenth century preacher Matthew Henry. The name Wilberforce was chosen in honor of William Wilberforce, an eighteenth/nineteenth century politician and philanthropist.
Career
Television
He frequently appears on the TLC show Counting On. His birth was featured on the episode "A New Baby".
Gallery