Henry Wilberforce Seewald (born February 6, 2017) is the second child and second son of Ben Seewald and Jessa Seewald.
He is the brother of Spurgeon Seewald, Ivy Seewald, and Fern Seewald.
Early life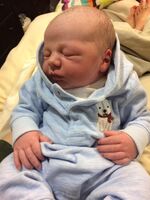 On August 23, 2016, Ben and Jessa Seewald announced that they were pregnant with their second child, due February 2017. Their pregnancy announcement was featured on the Counting On episode "Jessa's Announcement". Of the pregnancy they said:
"We are overjoyed to announce that Spurgeon has a new title in life as 'big brother'! We are so thankful that God is adding to our family. 2017 is shaping up to be a wonderful year already and we know Spurgeon will do a great job in his new role. Having Spurgeon has been such a wonderful blessing and we cannot wait to see the face of this sweet new baby (or babies!)."
Ben and Jessa chose to find out the gender of their baby, but chose to keep it a secret. Their gender reveal was featured on the Counting On episode "The Bachelor Party".
On February 6, 2017, Ben and Jessa announced that their baby was a boy and that he was born at 4:26 a.m. on February 6, 2017, at their home in Fayetteville, Arkansas. He weighed 8 pounds and 11 ounces, and was 21 ¾ inches long. The birth was assisted by a midwife, Jessa's mother Michelle, and Jessa's sisters Jana and Jill. They didn't reveal his name at that time. His birth was featured on the Counting On episode "A New Baby".
"Mom and baby are doing well. We are so thankful to God for this precious gift of life and are excited to be a family of four! Thanks to everyone for your prayers and well wishes!"
On February 13, 2017, his name was revealed to be Henry Wilberforce Seewald. They chose the name Henry mostly because Jessa liked it and in honor of Matthew Henry, a seventeenth/eighteenth century preacher. The name Wilberforce was chosen in honor of William Wilberforce, an eighteenth/nineteenth century politician and philanthropist.
In 2019, Jessa took Henry to see a speech therapist after noticing that he was developmentally behind. When she took him back to the therapist a year later, Henry had caught up.
Henry is described as loving singing and reading, bold, rambunctious, full of energy, having a strong sense of right and wrong, and taking up for the underdog.
Career
Education
Along with his siblings, Henry will be homeschooled growing up.
Television
Henry is frequently featured on the TLC show Counting On. His birth was featured on the episode "A New Baby".
Gallery