Israel David Dillard (born April 6, 2015) is the first child and first son of Derick Dillard and Jill Dillard.
He is the brother of Samuel Dillard and Frederick Dillard.
Early life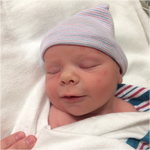 On August 20, 2014, Derick and Jill Dillard announced that they were expecting their first child, due March 2015. This announcement came only two months after the couple's wedding. Their pregnancy announcement was featured on the 19 Kids and Counting episode "Jill's Secret". "We're having a baby! We are so excited," Jill said. After taking several negative pregnancy tests, Jill's sisters persuaded her to take another while visiting her parents' home, which came out positive. "It was surreal," Derick said. "We were shocked, both of us are so excited." "About 30 days after Jill and Derick got married, they gathered everyone in the living room and shared the news," Jill's father, Jim Bob, said of the announcement. "Everyone was clapping and cheering, and we were in shock, too." This announcement earned Derick and Jill the cover of the September 1, 2014 edition of People Magazine.
On September 3, 2014, Derick and Jill gave an interview on why they chose to publicly announce their pregnancy at only 8 weeks. "Understanding that the majority of miscarriages happen within the first trimester, and believing that every life is precious no matter how young, we decided to share our joyful news as soon as we could," Jill stated.
On October 21, 2014, Derick and Jill revealed that their first child would be a boy. Their gender reveal was featured on the 19 Kids and Counting episode "Jill's Having A ...".
Throughout her pregnancy, Jill documented her progress with weekly baby bump photos on her Instagram page.
His birth was announced on April 7, 2015. Israel David Dillard was born at 11:49 p.m. on April 6, 2015, at Washington Regional Medical Center in Fayetteville, Arkansas. He weighed 9 pounds and 10 ounces, and was 23 inches long. Israel was born via an emergency C-section after 70 hours of labor. His birth was featured on the 19 Kids and Counting episode "Jill's Special Delivery".
In a statement on the Duggar family's Facebook page, Jim Bob and Michelle Duggar wrote: "We are so thankful for a healthy Mom and baby! Love this sweet baby Israel! We are happy grandparents and we promise more pictures soon!".
Derick and Jill had planned on having Israel at home, which they were vocal about during the pregnancy. "I feel like it will be way more relaxing ... and having the baby at home with a midwife provides more of that personal care. It's more intimate for the couple as well, getting to be in your own environment," Jill said in an interview. This home birth proved impossible. "His birth didn't go as expected," Jill said of the birth. "But having him here - it's worth all of it. I wouldn't do anything differently."
In an interview published on April 14, 2015, Jill said that after being two weeks after her due date, her water finally broke. She tested positive for strep B, which can be passed from mother to baby during birth, and had to begin taking antibiotics through an IV. After 20 hours of labor, they saw a faint sign of meconium and moved to a hospital. Jill initially declined Pitocin to speed up her labor. After 70 hours of labor, the baby had flipped into a transverse breech position and experienced irregular heart rates. At that time, the couple and their doctors made the decision to move forward with an emergency C-section. "I love our birth story because it bonded us so well," Jill stated. "I still haven't changed a single diaper. Derick has been changing them all."
On May 10, 2015, Derick and Jill dedicated Israel to God at a church service at Cross Church.
Israel is described as outgoing, makes friends easily, and loving playing outside in the sprinkler, finding bugs, "campfires" in the backyard, going on adventures with his little brother, basketball, and reading.
Career
Education
Israel was homeschooled for preschool.
Israel started kindergarten at Janie Darr Elementary School on August 24, 2020, when the 2020/2021 school year began. He is still enrolled in public school.
Missionary work
On June 26, 2015, Israel's parents announced on their blog that they would be moving overseas to pursue long-term mission work. On July 5, 2015, Derick, Jill, and Israel left for El Salvador. Although they frequently returned to the United States for family events and filming for Counting On, Israel spent most of his first two years of life in El Salvador. In May 2017, they returned to the United States to give birth to their second child, Samuel. On August 9, 2017, Derick and Jill announced that their family would not be returning to Central America.
Social media
Israel is often featured in sponsored posts on his mother's Instagram account for children's clothing or toys from Christian companies and Magic Spoon Cereal.
Television
Israel is frequently featured on the TLC show 19 Kids and Counting. His birth was featured on the episode "Jill's Special Delivery".
Israel is frequently featured on the TLC show Counting On. He and his family left the show in 2017.
Wedding involvement
Israel was a ring bearer at his uncle Daniel's wedding to Deena Tougaw on November 12, 2016.
He was a ring bearer at his uncle John-David's wedding to Abbie Burnett on November 3, 2018.
He was the ring bearer at his family friend Mandie Query's wedding to David Poemoceah on November 16, 2019.
Gallery