Ivy Jane Seewald (born May 26, 2019) is the third child and first daughter of Ben Seewald and Jessa Seewald.
She is the sister of Spurgeon Seewald, Henry Seewald, and Fern Seewald.
Early life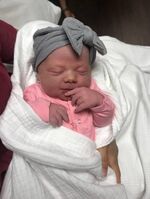 On January 9, 2019, Ben and Jessa Seewald announced that they were expecting their third child, due late Spring 2019. The couple predicted the gender of the baby would be a boy. Their pregnancy announcement was featured on the Counting On episode "A Bachelor No More". In the episode, they revealed that the baby was due June 6, 2019. Of the pregnancy they said:
"We are overjoyed that God has blessed us with a baby, due late this Spring! From the day we found out we were expecting, we both guessed boy, and if our predictions are right, then we already have a ton of clothing and accessories ready to pass down! At the same time, we would absolutely love it if we found out we were having a girl, though we've joked that we'd be starting from square one and might have to learn a few things. Henry doesn't have a clue what's coming, but Spurgeon understands and he talks about the baby quite a bit. Seeing our boys meet their new sibling for the first time is something we are really looking forward to! We love being parents and are really looking forward to this new arrival!"
On February 21, 2019, Jessa posted a picture of her baby bump with a caption that stated she was 25 weeks pregnant.
Ben and Jessa chose to find out the gender of their baby, but chose to keep it a secret. Their gender reveal was featured on the Counting On episode "Count Your Blessings".
Her birth was announced on May 28, 2019. Ivy Jane Seewald was born at 5:57 p.m. on May 26, 2019, at her parents' home in Fayetteville, Arkansas. She weighed 7 pounds and 14 ounces, and was 20 ½ inches long. Jessa had post-birth hemorrhaging after her delivery and was rushed to the hospital. The birth was assisted by two midwives and Jessa's sister Jill. Her birth was featured on the Counting On episode "A Surprise Delivery".
"She feels so tiny compared to her siblings!" the couple told Us Weekly, explaining that their sons Spurgeon and Henry, were born at nearly 10 pounds and close to 9 pounds, respectively. "We're so grateful to God for this precious gift. She is already so loved. Her big brothers adore her!"
Ivy is described as having the biggest and bluest eyes, loving her big brothers, having a remarkable vocabulary, and having a big personality.
Career
Education
Along with her siblings, Ivy will be homeschooled growing up.
Television
Ivy is frequently featured on the TLC show Counting On. Her birth was featured on the episode "A Surprise Delivery".
Wedding involvement
Ivy was a flower girl at her uncle Jeremiah's wedding to Hannah Wissmann on March 26, 2022.
Gallery