Ivy Jane Seewald (born May 26, 2019) is the third child and first daughter of Ben Seewald and Jessa Seewald.
She is the sister of Spurgeon Seewald, Henry Seewald, and Fern Seewald.
Early life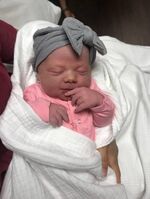 On January 9, 2019, Ben and Jessa Seewald announced that they were expecting their third child, who was due late spring. The couple predicted the gender of the baby would be a boy.
In the comments on a Facebook post from the baby's grandmother, Guinn Seewald, she revealed that the due date was in June.
On February 21, 2019, Jessa posted a picture of her baby bump with a caption that stated she was 25 weeks pregnant. This makes her baby due around June 6, 2019.
On March 25, 2019, Jessa revealed in the Counting On episode "A Bachelor No More" that her due date was June 6, 2019.
Ivy Jane Seewald was born on May 26, 2019, weighing 7 pounds and 14 ounces and measuring 20 ½ inches long.
"She feels so tiny compared to her siblings!" the couple told Us Weekly, explaining that their sons Spurgeon and Henry, were born at nearly 10 pounds and close to 9 pounds, respectively. "We're so grateful to God for this precious gift. She is already so loved. Her big brothers adore her!"
Career
Television
She frequently appears on the TLC show Counting On. Her birth was featured in the episode "A Surprise Delivery".
Gallery