James Andrew Duggar (born July 7, 2001) is the thirteenth child and eighth son of Jim Bob Duggar and Michelle Duggar.
He is the brother of Joshua Duggar, Jana Duggar, John-David Duggar, Jill Dillard, Jessa Seewald, Jinger Vuolo, Joseph Duggar, Josiah Duggar, Joy-Anna Forsyth, Jedidiah Duggar, Jeremiah Duggar, Jason Duggar, Justin Duggar, Jackson Duggar, Johannah Duggar, Jennifer Duggar, Jordyn-Grace Duggar and Josie Duggar.
Early life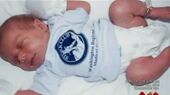 James Andrew Duggar was born on July 7, 2001, to Jim Bob Duggar and Michelle Duggar. He was the couple's thirteenth child, and they went on to have six more children after him.
James has been homeschooled his whole life. James completed high school in 2019, and celebrated with a party at his family's home on July 15, 2019.
Like most children, James has chores, which the family calls "jurisdictions". In 2011, James' jurisdictions included cleaning the dining room and taking out the upstairs trash.
By the time James was born, his parents had implemented a buddy system, where each older child was paired with a younger child to take care of. Typical tasks for an older buddy included dressing, bathing, and feeding their younger buddies. By 2009, the family had switched from individual buddies to buddy teams, with each team being led by one of the oldest four daughters. James was on a team with older sisters Jill and Joy-Anna, and younger sister Jennifer. This team has stayed particularly close over the years, despite two of the four members getting married and moving out.
In 2006, as featured on the TV specials, James and his family moved into a new home in Springdale, Arkansas. In this house, James was given a dormitory-style room with his brothers. James still lives in this house today.
Thanks to the reality show, James was able to take a number of vacations as a child. Notable vacation locations include Disneyland, New York City, Niagara Falls, Scotland, Ireland, London, Israel, China, and Japan.
Gallery