Jedidiah Robert Duggar (born December 30, 1998) is the tenth child and fifth son of Jim Bob Duggar and Michelle Duggar.
He is the brother of Joshua Duggar, Jana Duggar, John-David Duggar, Jill Dillard, Jessa Seewald, Jinger Vuolo, Joseph Duggar, Josiah Duggar, Joy-Anna Forsyth, Jeremiah Duggar (twin brother), Jason Duggar, James Duggar, Justin Duggar, Jackson Duggar, Johannah Duggar, Jennifer Duggar, Jordyn-Grace Duggar, and Josie Duggar.
He is the husband of Katelyn Duggar and the father of their child, Truett.
Early life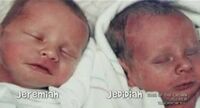 Jedidiah Robert Duggar was born on December 30, 1998, in Arkansas, to Jim Bob Duggar and Michelle Duggar. He was the couple's tenth child, being born five minutes before his twin brother, Jeremiah, and they went on to have eight more children after them.
Along with his siblings, Jedidiah was homeschooled growing up. He and his siblings were raised as active participants of Bill Gothard's Institute in Basic Life Principles, and regularly attended the yearly Advanced Training Institute conferences in Big Sandy, Texas. He took the test to get his GED in 2016, at seventeen years old, alongside his twin brother Jeremiah and older sister Joy-Anna. His family had a graduation party to celebrate this event.
Like most children, Jedidiah was assigned chores growing up, which the family called "jurisdictions". As of 2011, Jedidiah's jurisdictions were the clothes closet, the upstairs overlooks, and the hallways. As of 2014, Jedidiah's jurisdictions were lawn care and real estate maintenance.
By 2001, Jedidiah's parents had implemented a buddy system, where each older child was paired with a younger child to take care of. Typical tasks for an older buddy included dressing, bathing, and feeding their younger buddies. It is unknown who Jedidiah's original older buddy was. By 2009, the family had switched from individual buddies to buddy teams, with each team being led by one of the oldest four daughters. Jedidiah was on a team with older sister Jinger and younger sister Johannah.
Jedidiah took piano lessons as a child, but it is unknown if these lessons were from the family's first piano teacher, Ruth Anita Anderson, or if his older siblings had taken over with the lessons by the time he was old enough to learn. Jedidiah also took violin lessons as a child.
In 2006, as featured on one of the TV specials, Jedidiah and his family moved into a new home in Springdale, Arkansas. The family made a point of doing much of the work on the house themselves, seeing it as a learning opportunity for their children. In this house, Jedidiah was given a dormitory-style room with his brothers.
In late 2009, after his sister Josie was born premature, Jedidiah moved with his family into the Cornish House in Little Rock, Arkansas, to be closer to the Neonatal Intensive Care Unit (NICU) at Arkansas Children's Hospital. Once Josie was healthy enough to leave the NICU, Jedidiah and his family moved back home.
In 2010, Jedidiah was an extra in the film Courageous, which was released on September 30, 2011. Although, Jedidiah did not make it into the film's final cut.
Thanks to the reality show, Jedidiah was able to take a number of vacations as a child and teenager. Notable vacation locations include: Disneyland, New York City, Niagara Falls, Scotland, Ireland, London, Israel, China, and Japan.
Jedidiah was saved when he was 14 years old.
Jedidiah enjoys politics, visiting veterans, spending time with family, and playing basketball with friends.
Personal life
Courtship
Jedidiah and Katelyn Nakatsu supposedly met sometime in 2019. They chose to keep their relationship private and never made an official statement regarding their relationship until their wedding. Photos from their engagement and their wedding invitation were leaked to the public, but neither of them confirmed anything.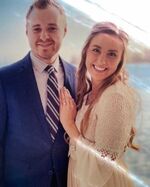 Engagement
On March 18, 2021, it was announced via the Nakatsu family blog that Jedidiah had proposed to their daughter Katelyn on February 14, 2021. He proposed to her at Amy's Wedding Barn in Fayetteville, Arkansas. The church was decorated with flower petals and candles. Jedidiah walked with Katelyn down the aisle and he proposed to her at the front of the church. They then ate a romantic meal in a clear igloo, sat by the fire, made s'mores, and watched fireworks. Jedidiah said that when they got engaged, it was -13°F and snowing. Their engagement is featured on their YouTube channel and the Nakatsu family blog.
Vows
At the time of their engagement, Jedidiah and Katelyn made vows to each other to stay pure and avoid any physical contact or time spent alone with each other.
Jedidiah's Vows
"Katelyn Nakatsu, in the presence of God and our family and friends, I pledge to take you as my future wife. I have prepared my works without and made it fit for myself in the field and now prepare a home for us to live. Until that time, I pledge to sustain your good reputation by staying within the sight of others when we are together. I pledge to keep my way pure and honor you with my eyes, my mind, and my heart. I'll protect you by having no intimate physical contact, until that day when God allows, I will come receive you as my wife."
Katelyn's Vows
"Jedidiah Duggar, I receive your pledge to marry and when the Lord calls, I will be your wife. Just as the church is set apart for Christ, I am now set apart for you. I pledge myself to you, forsaking all others. And just as the Lord calls His bride, the church, to make herself ready, I pledge to make myself ready for the day that God shall bring us together as one. Until that day, I promise to redeem the time well by preparing for the high calling of being a noble wife, and, if it be the Lord's will, a godly mother someday. I pledge to you Jed to guard and strengthen my testimony of Christ and to be above reproach in my thoughts, words, and actions. That you might be honored at the city gates. As we await our Lord's return with patience and firm standing, I pledge to you that I will also wait patiently on the Lord and upon you."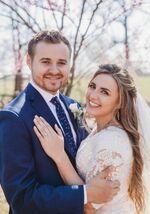 Marriage
On April 3, 2021, Jedidiah married Katelyn Koryn Nakatsu at Barn at the Springs in Springdale, Arkansas. The couple shared their first kiss at the altar. The wedding was officiated by Noel Cwenar. Jedidiah's best man was his twin brother Jeremiah. His groomsmen were his brothers Joseph, Josiah, Jason, James, and Justin, his brother-in-law Austin, his friend Joseph Shoemaker, and one unknown friend. The ring bearer was Jedidiah's nephew Marcus. Katelyn's maid of honor was her sister Lauren. Her bridesmaids were her half-sister Jamie, Jedidiah's sisters Jinger, Johannah, and Jordyn, her friend Lydia Poteet, and four unknown friends. The flower girls were Jedidiah's nieces Meredith and Felicity. His sister Jana was a pianist and his brothers Jeremiah and Jason were singers at the wedding. Their wedding was featured on their YouTube channel.
Their honeymoon destination is unknown. Based on pictures, the couple spent time on a beach.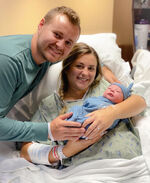 Fatherhood
On September 5, 2021, Jedidiah and Katelyn announced that they were expecting their first child, due April 2022. On January 7, 2022, they revealed that they were expecting a boy. His due date was later revealed to be May 2, 2022. Their son, Truett Oliver, was born at 6:34 p.m. on May 2, 2022, in Arkansas. He weighed 8 pounds and 5 ounces, and was 20 ½ inches long. His birth was featured on their YouTube channel.
Career
Politics
On January 24, 2017, Arkansas State Representative Charlene Fite shared in a later-deleted post on her Facebook page that Jedidiah was interning at the Arkansas State House of Representatives in Little Rock, Arkansas. On his campaign website, he referred to this position as being a legislative assistant.
On August 6, 2019, Jedidiah was a guest on the Modern Conservative Thinking podcast. In this podcast, he spoke of the importance of getting involved in local politics. He also mentioned that he interned for Bob Ballinger's 2018 State Senate campaign. On his campaign website, he said that he was actually the campaign manager on Bob Ballinger's 2018 campaign.
On November 1, 2019, Northwest Arkansas Democrat-Gazette reporter Doug Thompson shared on his Twitter that Jedidiah had confirmed to the paper that he was running for Arkansas State House District 89, and that a formal announcement was expected soon. Jedidiah officially announced this campaign via Instagram on November 3, 2019. At that time, he launched his campaign website.
During the 2020 election, Jedidiah ran for the Arkansas House of Representatives in District 89 as a Republican, pushing a pro-life and Conservative agenda. However, he lost to Democratic candidate Megan Godfrey by 12.6%.
Used car salesman
Jedidiah currently works at his family's business Champion Motorcars in Springdale, Arkansas.
Wedding involvement
Jedidiah was a groomsman at his brother Josh's wedding to Anna Keller on September 26, 2008.
He was a groomsman at his parents Jim Bob and Michelle's vow renewal ceremony in 2009.
He was a singer and violinist at his family friend Priscilla Keller's wedding to David Waller on February 4, 2012.
He was an usher at his sister Jill's wedding to Derick Dillard on June 21, 2014.
He was an usher at his sister Jinger's wedding to Jeremy Vuolo on November 5, 2016.
He was a groomsman at his brother Joseph's wedding to Kendra Caldwell on September 8, 2017.
He was a groomsman at his brother Josiah's wedding to Lauren Swanson on June 30, 2018.
He was a groomsman at his family friend David Keller's wedding to Hannah Reber on November 19, 2021.
He was the best man at his twin brother Jeremiah's wedding to Hannah Wissmann on March 26, 2022.
Gallery