Jennifer Danielle Duggar (born August 2, 2007) is the seventeenth child and seventh daughter of Jim Bob Duggar and Michelle Duggar.
She is the sister of Joshua Duggar, Jana Duggar, John-David Duggar, Jill Dillard, Jessa Seewald, Jinger Vuolo, Joseph Duggar, Josiah Duggar, Joy-Anna Forsyth, Jedidiah Duggar, Jeremiah Duggar, Jason Duggar, James Duggar, Justin Duggar, Jackson Duggar, Johannah Duggar, Jordyn-Grace Duggar, and Josie Duggar.
Early life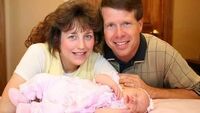 Jennifer Danielle Duggar was born at 10:01 a.m. on August 2, 2007, at Saint Mary's Hospital in Rogers, Arkansas, to Jim Bob Duggar and Michelle Duggar. She was the couple's seventeenth child, and they went on to have two more children after her.
Jennifer weighed 8 pounds and 8 ounces. She arrived five days after her due date. Her birth was filmed by a TLC camera crew, and was featured on the Discovery Health Channel special Duggars' Big Family Album on September 22, 2007.
Jennifer is shown to be a shy child. She is often said to be methodical and thoughtful by members of her family. She is described as tender-hearted, gentle, quiet, a baby whisperer, an animal lover, consistent, dependable, and always willing to lend a helping hand. She enjoys her guinea pig, horseback riding, baking, water activities, and playing her violin.
Along with her siblings, Jennifer is being homeschooled. She and her siblings are being raised as active participants of Bill Gothard's Institute in Basic Life Principles, and regularly attend the yearly Advanced Training Institute conferences in Big Sandy, Texas.
Like most children, Jennifer has chores, which the family calls "jurisdictions". As of 2014, Jennifer's jurisdiction was the girls' room.
By 2001, Jennifer's parents had implemented a buddy system, where each older child was paired with a younger child to take care of. Typical tasks for an older buddy included dressing, bathing, and feeding their younger buddies. By 2009, the family had switched from individual buddies to buddy teams, with each team being led by one of the oldest four daughters. Jennifer was on a team with older siblings Jill, Joy-Anna, and James. This team has been shown to still maintain a strong bond today, despite two of the four members getting married and moving out.
Jennifer is taking piano lessons, but it is unknown if these lessons are from the family's first piano teacher, Ruth Anita Anderson, or if her older siblings have taken over with the lessons. Jennifer is also taking violin lessons.
In 2006, as featured on one of the TV specials, Jennifer's family moved into a new home in Springdale, Arkansas. The family made a point of doing much of the work on the house themselves, seeing it as a learning opportunity for their children. When Jennifer was first born, she lived in a bedroom with her parents. After the birth of her sister Jordyn-Grace, Jennifer moved into a dormitory-style room with her older sisters.
In late 2009, after her sister Josie was born premature, Jennifer moved with her family into the Cornish House in Little Rock, Arkansas, to be closer to the Arkansas Children's Hospital. Once Josie was healthy enough to leave the Neonatal Intensive Care Unit (NICU), Jennifer and her family moved back home.
Thanks to the reality show, Jennifer was able to take a number of vacations as a child. Notable vacation locations include: New York City, Niagara Falls, Scotland, Ireland, London, Israel, China, and Japan.
In 2018, Jennifer, along with her sisters Johannah, Jordyn-Grace, and Josie and her niece Mackynzie, recorded an album called Happy Heart.
Wedding involvement
Jennifer was a flower girl at her brother Josh's wedding to Anna Keller on September 26, 2008.
She was a flower girl at her parents Jim Bob and Michelle's vow renewal ceremony in 2009.
She was a singer at her family friend Priscilla Keller's wedding to David Waller on February 4, 2012.
She was a flower girl at her sister Jill's wedding to Derick Dillard on June 21, 2014.
She was a flower girl at her cousin Amy's wedding to Dillon King on September 6, 2015.
She was a bridesmaid at her sister Joy's wedding to Austin Forsyth on May 26, 2017.
She was a bridesmaid at her brother Joseph's wedding to Kendra Caldwell on September 8, 2017.
Gallery