We're Getting Mutants in the MCU - The Loop
Play Sound
Jordyn-Grace Makiya Duggar (born December 18, 2008) is the eighteenth child and eighth daughter of Jim Bob Duggar and Michelle Duggar.
She is the sister of Joshua Duggar, Jana Duggar, John-David Duggar, Jill Dillard, Jessa Seewald, Jinger Vuolo, Joseph Duggar, Josiah Duggar, Joy-Anna Forsyth, Jedidiah Duggar, Jeremiah Duggar, Jason Duggar, James Duggar, Justin Duggar, Jackson Duggar, Johannah Duggar, Jennifer Duggar, and Josie Duggar.
Early life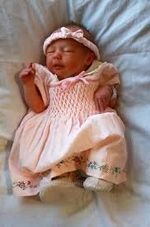 Jordyn-Grace Makiya Duggar was born on December 18, 2008, to Jim Bob Duggar and Michelle Duggar. She was born via an emergency C-section at Mercy Medical Center in Rogers, Arkansas. She weighed 7 lbs and 3 oz and was 20 inches long. Jordyn was the couple's eighteenth child, and they went on to have one more child after her. Her birth was filmed by a TLC crew, and was aired in the 18 Kids and Counting special episode "And Baby Makes 18" on December 22, 2008. Jordyn was the first of her siblings to have their birth featured on the family's regular reality TV show.
Jordyn has been homeschooled her whole life.
Like most children, Jordyn has chores, which the family calls "jurisdictions". It is unknown what jurisdictions Jordyn has been assigned.
When Jordyn's sister Josie was born, Jordyn was put in a buddy team with older siblings Jessa, Jeremiah, and Justin. Buddy teams help each other out around the house, with older buddies helping dress, bathe, and feed their younger buddies.
In 2006, as featured on one of the TV specials, Jennifer and her family moved into a new home in Springdale, Arkansas. When Jordyn was first born, she lived in a bedroom with her parents. With the birth of her sister Josie, Jordyn was moved into a dormitory-style room with her older sisters.
In late 2009, Jordyn's family briefly moved to the Cornish House in Little Rock, Arkansas, after her sister Josie was born premature. Once Josie was well enough to live outside of the Neonatal Intensive Care Unit (NICU) the family returned home.
Thanks to the reality show, which ended in 2015, Jordyn was able to take a number of vacations as a young child. Notable locations include Scotland, Ireland, London, Israel, China, and Japan.
Wedding involvement
Jordyn was a flower girl at her parents Jim Bob and Michelle's vow renewal ceremony in 2009.
She was a singer at her family friend Priscilla Keller's wedding to David Waller on February 4, 2012.
She was a flower girl at her sister Jill's wedding to Derick Dillard on June 21, 2014.
She was a flower girl at her sister Jessa's wedding to Ben Seewald on November 1, 2014.
She was a flower girl at her cousin Amy's wedding to Dillon King on September 6, 2015.
She was a flower girl at her brother John's wedding to Abbie Burnett on November 3, 2018.
She was a bridesmaid at her brother Jedidiah's wedding to Katelyn Nakatsu on April 3, 2021.
Gallery