Justin Samuel Duggar (born November 15, 2002) is the fourteenth child and ninth son of Jim Bob Duggar and Michelle Duggar.
He is the brother of Joshua Duggar, Jana Duggar, John-David Duggar, Jill Dillard, Jessa Seewald, Jinger Vuolo, Joseph Duggar, Josiah Duggar, Joy-Anna Forsyth, Jedidiah Duggar, Jeremiah Duggar, Jason Duggar, James Duggar, Jackson Duggar, Johannah Duggar, Jennifer Duggar, Jordyn-Grace Duggar, and Josie Duggar.
He is the husband of Claire Duggar.
Early life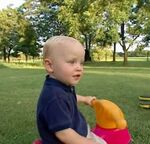 Justin Samuel Duggar was born on November 15, 2002, in Arkansas, to Jim Bob Duggar and Michelle Duggar. He was the couple's fourteenth child, and they went on to have five more children after him.
Justin is described as having a heart of gold, thoughtful, caring, having a kind demeanor, a gifted athlete, a hard worker, and humble. He often works with his brothers doing property maintenance, renovation of commercial and residential real estate, and construction of new homes. He enjoys hanging out with family and friends and snowboarding.
Along with his siblings, Justin was homeschooled growing up. He and his siblings were raised as active participants of Bill Gothard's Institute in Basic Life Principles, and regularly attended the yearly Advanced Training Institute conferences in Big Sandy, Texas.
Like most children, Justin was assigned chores growing up, which the family called "jurisdictions". As of 2011, Justin's jurisdiction was cleaning the playroom. As of 2014, Justin's jurisdiction was the upstairs trash.
By 2001, Justin's parents had implemented a buddy system, where each older child was paired with a younger child to take care of. Typical tasks for an older buddy included dressing, bathing, and feeding their younger buddies. By 2009, the family had switched from individual buddies to buddy teams, with each team being led by one of the oldest four daughters. Justin was on a buddy team with older siblings Jessa and Jeremiah and younger sister Jordyn-Grace.
Justin took piano lessons as a child, but it is unknown if these lessons were from the family's first piano teacher, Ruth Anita Anderson, or if his older siblings had taken over with the lessons by the time he was old enough to learn. Justin also took violin lessons as a child.
In 2006, as featured on one of the TV specials, Justin and his family moved into a new home in Springdale, Arkansas. The family made a point of doing much of the work on the house themselves, seeing it as a learning opportunity for their children. In this house, Justin was given a dormitory-style room with his brothers.
In late 2009, after his sister Josie was born premature, Justin moved with his family into the Cornish House in Little Rock, Arkansas, to be closer to the Arkansas Children's Hospital. Once Josie was healthy enough to leave the Neonatal Intensive Care Unit (NICU), Justin and his family moved back home.
Thanks to the reality show, Justin was able to take a number of vacations as a child. Notable vacation locations include: Disneyland, New York City, Niagara Falls, Scotland, Ireland, London, Israel, China, and Japan.
Personal life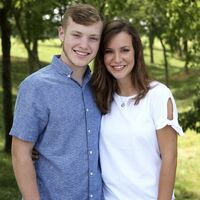 Courtship
On September 21, 2020, it was announced that Justin was courting Claire Spivey. They have known each other almost their entire lives, but reconnected on April 26, 2019. Claire revealed after their engagement that they had been courting since September 2019. Justin and Claire began courting on September 6, 2019. Their courtship announcement is featured on the Counting On episode "A Quarantine Courtship". On their courtship they said:
"Claire and I are excited to share that we are in a courtship", Justin says. "God brought Claire in my life and I wasn't really expecting it, but He brought her along right when I needed her." "I'm really looking forward to the memories to come spent with him", Claire says. "I'm excited to see what the Lord holds for us in the near future." "I just knew that she was the one", Justin says. "Claire has a lot of good qualities and I can sit here and tell you all of them, but there are so many good things that I see in her. I'm so blessed to have her in my life."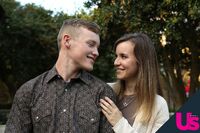 Engagement
Justin and Claire announced their engagement on November 16, 2020, the day after Justin's 18th birthday. They got engaged on November 5, 2020, in Texas. On their engagement they said:
"There is nothing comparable to finding the one you are meant to spend your life with. We know we have found that in each other. We cannot wait to be married and are looking forward to a life together of faith in Christ, love for one another, and happiness!"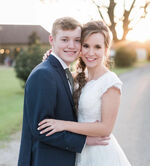 Marriage
On February 26, 2021, Justin married Claire Yvonne Spivey at The Orchard Event Venue and Retreat in Azle, Texas. The couple shared their first kiss at the altar. The wedding was officiated by David Waller. Justin's best man was his brother Jason. His groomsmen were his brothers John-David, James, and Jackson, his brother-in-law Austin, and Claire's brother Robby. The ring bearers were Justin's nephews Michael and Marcus and Claire's brothers Wyatt and Taylor. Claire's matron of honor was her mother Hilary. Her bridesmaids were her sister Paige, her aunt Gari-Anne Smith, Justin's sister Johannah, Justin's sister-in-law Abbie, and one unknown friend. The flower girl was Claire's sister Carson. The ushers were Justin's friends Jackson Bates and Warden Bates. His brother Jason was a singer at the wedding. Their wedding is featured on their YouTube channel.
Their honeymoon destination is unknown.
Health
In 2013, Justin and some of his older brothers were playing with a rope. The rope snapped, hitting him in the right eye and causing a blood vessel behind his right eye to burst. He had to wear an eye patch until it healed.
Career
Mechanic
Justin worked with Paul Caldwell as a mechanic.
Construction
Justin works for his father-in-law's business, Spivey Construction, in Fort Worth, Texas.
Wedding involvement
Justin was a ring bearer at his brother Josh's wedding to Anna Keller on September 26, 2008.
He was a ring bearer at his parents Jim Bob and Michelle's vow renewal ceremony in 2009.
He was a ring bearer, carpet roller, singer, and violinist at his family friend Priscilla Keller's wedding to David Waller on February 4, 2012.
He was a carpet roller at his sister Jill's wedding to Derick Dillard on June 21, 2014.
He was an usher at his sister Joy-Anna's wedding to Austin Forsyth on May 26, 2017.
He was a groomsman at his brother Joseph's wedding to Kendra Caldwell on September 8, 2017.
He was an usher at his brother John-David's wedding to Abbie Burnett on November 3, 2018.
He was an usher at his family friend Carlin Bates's wedding to Evan Stewart on May 25, 2019.
He was a groomsman at his friend Kord Etbauer's wedding to Grace Wikstrom on December 19, 2020.
He was a groomsman at his brother Jedidiah's wedding to Katelyn Nakatsu on April 3, 2021.
Gallery