Justin Samuel Duggar (born November 15, 2002) is the fourteenth child and ninth son of Jim Bob Duggar and Michelle Duggar.
He is the brother of Joshua Duggar, Jana Duggar, John-David Duggar, Jill Dillard, Jessa Seewald, Jinger Vuolo, Joseph Duggar, Josiah Duggar, Joy-Anna Forsyth, Jedidiah Duggar, Jeremiah Duggar, Jason Duggar, James Duggar, Jackson Duggar, Johannah Duggar, Jennifer Duggar, Jordyn-Grace Duggar, and Josie Duggar.
He is the husband of Claire Duggar.
Early life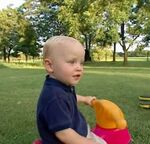 Justin Samuel Duggar was born on November 15, 2002, to Jim Bob Duggar and Michelle Duggar. He was the couple's fourteenth child, and they went on to have five more children after him.
Justin has been homeschooled his entire life.
Like most children, Justin has chores, which the family calls "jurisdictions". In 2011, Justin's jurisdiction was cleaning the playroom.
By the time Justin was born, his parents had implemented a buddy system, where each older child was paired with a younger child to take care of. Typical tasks for an older buddy included dressing, bathing, and feeding their younger buddies. By 2009, the family had switched from individual buddies to buddy teams, with each team being led by one of the oldest four daughters. Justin was on a buddy team with older siblings Jessa and Jeremiah and younger sister Jordyn-Grace.
In 2006, as featured on one of the TV specials, Justin and his family moved into a new home in Springdale, Arkansas. In this house, Justin was given a dormitory-style room with his brothers. Justin still lives in this house today.
Thanks to the reality show, Justin was able to take a number of vacations as a child. Notable vacation locations include Disneyland, New York City, Niagara Falls, Scotland, Ireland, London, Israel, China, and Japan.
Personal life
Courtship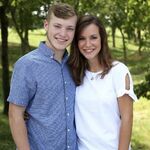 On September 21, 2020, it was announced that Justin is courting Claire Spivey. They have known each other almost their entire lives, but reconnected on April 26, 2019. Claire revealed after their engagement that they had been courting since September 2019. On their courtship they said:
"Claire and I are excited to share that we are in a courtship", Justin says. "God brought Claire in my life and I wasn't really expecting it, but he brought her along right when I needed her." "I'm really looking forward to the memories to come spent with him", Claire says. "I'm excited to see what the Lord holds for us in the near future." "I just knew that she was the one", Justin says. "Claire has a lot of good qualities and I can sit here and tell you all of them, but there are so many good things that I see in her. I'm so blessed to have her in my life."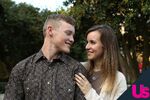 Engagement
Justin and Claire announced their engagement on November 16, 2020, the day after Justin's 18th birthday. They got engaged on November 10, 2020 in Texas. On their engagement they said: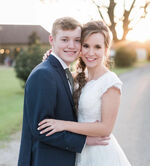 "There is nothing comparable to finding the one you are meant to spend your life with. We know we have found that in each other. We cannot wait to be married and are looking forward to a life together of faith in Christ, love for one another and happiness!"
Marriage
On February 26, 2021, Justin married Claire Spivey at The Orchard Event Venue and Retreat in Azle, Texas.
Gallery