We're Getting Mutants in the MCU - The Loop
Play Sound
Katelyn Koryn Duggar (née Nakatsu) (born July 29, 1998) is the first child and first daughter of Kory Nakatsu and Kim Nakatsu.
She is the sister of Lauren Nakatsu. She is the half-sister of Jamie Brock and Reed Roberts.
She is the wife of Jedidiah Duggar and the mother of their child, Truett.
Early life
Katelyn Koryn Nakatsu was born on July 29, 1998, in Arizona, to Kory Nakatsu and Kim Nakatsu. She was the couple's first child, and they went on to have one more child after her.
Although Katelyn was her father's first child, she was her mother's third. Katelyn has two older half-siblings through her mother. After her parents' divorce, her parents had equal joint custody of Katelyn and her sister Lauren. Her father was in charge of education and her mother was in charge of healthcare. Both Katelyn and Lauren maintain relationships with their mother and older half-siblings. They were bridesmaids in their half-sister's wedding and attended their mother's wedding in 2019, which gave them three step-siblings, two step-brothers and one step-sister, until their divorce in 2021.
At the time of Kory and Kim's marriage, the family was Christian, albeit not involved in the IBLP or ATI. Katelyn and her siblings went to public school and participated in a relatively "normal" American childhood.
Sometime in early 2005, Katelyn's parents divorced. On August 1, 2009, Katelyn's father got remarried to Kerry Sheppard.
Katelyn went to public school through the 8th grade, until 2012. At that time, her father made the decision to pull the girls from school and begin homeschooling them. He cited their desire to be "accepted by the world" as his reasoning. She and her sister were raised as active participants of Bill Gothard's Institute in Basic Life Principles, and regularly attended the yearly Advanced Training Institute conferences in Big Sandy, Texas. She graduated on May 24, 2016.
Katelyn was saved when she was 15 years old.
Katelyn loves being with people and laughing and chatting with friends and family. She enjoys playing her harp at hospice facilities. She loves the mountains and sunshine.
Personal life
Courtship
Katelyn and Jedidiah Duggar supposedly met sometime in 2019. They chose to keep their relationship private and never made an official statement regarding their relationship until their wedding. Photos from their engagement and their wedding invitation were leaked to the public, but neither of them confirmed anything.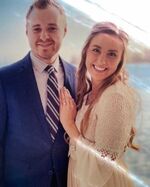 Engagement
On March 18, 2021, it was announced via the Nakatsu family blog that Jedidiah Duggar had proposed to their daughter Katelyn on February 14, 2021. He proposed to her at Amy's Wedding Barn in Fayetteville, Arkansas. The church was decorated with flower petals and candles. Katelyn walked with Jedidiah down the aisle and he proposed to her at the front of the church. They then ate a romantic meal in a clear igloo, sat by the fire, made s'mores, and watched fireworks. Jedidiah said that when they got engaged, it was -13°F and snowing. Their engagement is featured on their YouTube channel and the Nakatsu family blog.
Vows
At the time of their engagement, Katelyn and Jedidiah made vows to each other to stay pure and avoid any physical contact or time spent alone with each other.
Katelyn's Vows
"Jedidiah Duggar, I receive your pledge to marry and when the Lord calls, I will be your wife. Just as the church is set apart for Christ, I am now set apart for you. I pledge myself to you, forsaking all others. And just as the Lord calls His bride, the church, to make herself ready, I pledge to make myself ready for the day that God shall bring us together as one. Until that day, I promise to redeem the time well by preparing for the high calling of being a noble wife, and, if it be the Lord's will, a godly mother someday. I pledge to you Jed to guard and strengthen my testimony of Christ and to be above reproach in my thoughts, words, and actions. That you might be honored at the city gates. As we await our Lord's return with patience and firm standing, I pledge to you that I will also wait patiently on the Lord and upon you."
Jedidiah's Vows
"Katelyn Nakatsu, in the presence of God and our family and friends, I pledge to take you as my future wife. I have prepared my works without and made it fit for myself in the field and now prepare a home for us to live. Until that time, I pledge to sustain your good reputation by staying within the sight of others when we are together. I pledge to keep my way pure and honor you with my eyes, my mind, and my heart. I'll protect you by having no intimate physical contact, until that day when God allows, I will come receive you as my wife."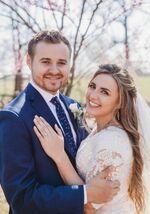 Marriage
On April 3, 2021, Katelyn married Jedidiah Robert Duggar at Barn at the Springs in Springdale, Arkansas. The couple shared their first kiss at the altar. The wedding was officiated by Noel Cwenar. Katelyn's maid of honor was her sister Lauren. Her bridesmaids were her half-sister Jamie, Jedidiah's sisters Jinger, Johannah, and Jordyn, her friend Lydia Poteet, and four unknown friends. The flower girls were Jedidiah's nieces Meredith and Felicity. Jedidiah's best man was his twin brother Jeremiah. His groomsmen were his brothers Joseph, Josiah, Jason, James, and Justin, his brother-in-law Austin, his friend Joseph Shoemaker, and one unknown friend. The ring bearer was Jedidiah's nephew Marcus. Jedidiah's sister Jana was a pianist and Jedidiah's brothers Jeremiah and Jason were singers at the wedding. Their wedding was featured on their YouTube channel.
Their honeymoon destination is unknown. Based on pictures, the couple spent time on a beach.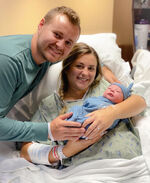 Motherhood
On September 5, 2021, Katelyn and Jedidiah announced that they were expecting their first child, due April 2022. On January 7, 2022, they revealed that they were expecting a boy. His due date was later revealed to be May 2, 2022. Their son, Truett Oliver, was born at 6:34 p.m. on May 2, 2022, in Arkansas. He weighed 8 pounds and 5 ounces, and was 20 ½ inches long. His birth was featured on their YouTube channel.
Career
Prison ministry
Katelyn volunteers in a women's prison ministry.
Pilot
Katelyn received her Private Pilot's license on April 13, 2020.
Wedding involvement
Katelyn was a bridesmaid at her half-sister Jamie's wedding to Logan Brock.
She was a bridesmaid at her family friend David Keller's wedding to Hannah Reber on November 19, 2021.
She was a bridesmaid at her friends Andrew and Gabrielle Patton's vow renewal ceremony in April 2022.
Gallery