Lauren Milagro Duggar (née Swanson) (born May 18, 1999) is the first child and first daughter of Dwain Swanson and Lana Swanson.
She is the sister of Lily Swanson, David Swanson, Lydia Swanson, Daniel Swanson, Dustin Swanson, Drew Swanson, Luci Swanson and Duke Swanson.
She is the wife of Josiah Duggar and the mother of their daughter, Bella.
Early life
Lauren Milagro Swanson was born on May 18, 1999, to Dwain Swanson and Lana Swanson. The couple went on to have eight more children after her.
Along with her siblings, Lauren was homeschooled growing up. She has attended at least one IBLP homeschool conference.
Personal life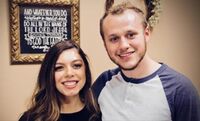 Courtship
While Lauren was hanging out with some of Josiah Duggar's siblings during a girls' night out in late December 2017, Josiah surprised Lauren and asked her if she wanted to enter a courtship, and she said yes.
The couple publicly announced this courtship on the Duggar family website on January 23, 2018.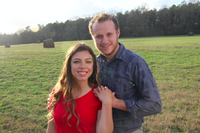 Engagement
On March 5, 2018, Josiah and Lauren announced on the Duggar family website that they were engaged. Josiah proposed to Lauren on her family's property in Georgia, at the same place where her parents got engaged. The proposal took place February 24, 2018.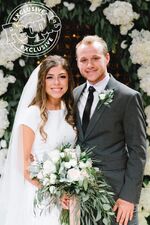 Marriage
Lauren married Josiah Duggar on June 30, 2018, at John Brown University's Cathedral of the Ozarks in Siloam Springs, Arkansas. The wedding was officiated by her father, Dwain. Her bridesmaids were her new sisters-in-law Jana, Joy-Anna, Kendra, friend Hannah Millsap, one other friend, and two of her sisters. One of her brothers was among the groomsmen, and another of her brothers was the ring bearer. Her dress was purchased from The White Dress Boutique.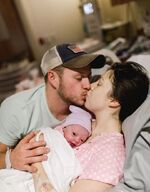 Motherhood
Josiah and Lauren were expecting a child, but suffered a miscarriage in October 2018. They affectionately called the baby Asa.
On May 20, 2019, they announced that they are expecting their second child, due in the Fall of 2019. On June 25, 2019, they revealed that they are having a girl. Their daughter, Bella Milagro was born on November 8, 2019, at 5:24 p.m., weighing 6 pounds and 5 ounces, measuring 18.5 inches long.


Gallery