Maryella Hope Duggar (born November 27, 2019) is the sixth child and third daughter of Anna Duggar and Joshua Duggar.
She is the sister of Mackynzie Duggar, Michael Duggar, Marcus Duggar, Meredith Duggar and Mason Duggar.
Early life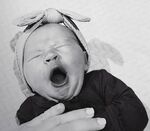 On April 26, 2019, Anna Duggar announced via Instagram that she and Joshua Duggar are expecting their sixth child. The announcement featured a video of their five older children unscrambling letters that spelled "New Baby Coming This Fall".
On the official Duggar Family Instagram, it was revealed that this baby is due in November.
On May 30, 2019, Anna posted on Instagram that she and Josh had learned the gender of the baby. She posted a poll asking followers if they thought the baby would be a boy or a girl, but did not share the answer. On June 20, 2019, Anna announced that her sixth child would be a girl. For the gender reveal, they shared a video of their children around a (fake) beehive with "What's it gonna bee?" written out on a poster below. Marcus Duggar poured vinegar into the beehive, producing a pink liquid pouring out of the hive to reveal the baby will be a girl. On November 23, 2019, Anna shared that the baby is due on November 28.
She was born on November 27, 2019, at 9:12 a.m., weighing 8 lbs, 2 oz and measuring 20.5 inches. Her name is assumed to be in honor of her paternal great-grandmother, Mary Duggar, who passed away in June 2019. Of her birth, her parents said:
"Maryella Hope arrived one day ahead of Thanksgiving Day 2019 and a great reminder to be grateful for all God has done for us! We are so excited and thankful to God for His special blessing giving us this precious, happy & healthy baby girl!"
Gallery
Community content is available under
CC-BY-SA
unless otherwise noted.