Mason Garrett Duggar (born September 12, 2017) is the fifth child, and third son of Joshua Duggar and Anna Duggar.
He is the brother of Mackynzie, Michael, Marcus, Meredith and Maryella.
Early life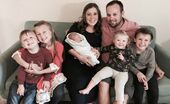 On March 17, 2017, Josh and Anna Duggar announced on the Duggar family website that they were expecting their fifth child, a son.
On September 12, 2017, Mason Garrett Duggar was born at 1:20 am. He weighed 9 pounds and 1 ounce and was 22 inches long.
Neither Josh nor Anna has talked publicly about the pregnancy as they have attempted to keep a low profile ever since Josh's scandal.
When Mason was two weeks old, he started experiencing reactions to a then-unknown allergy. He was temporarily switched to formula while Anna cut a number of common allergens out of her diet. Eventually, it was determined that he had a milk protein allergy, and he was able to resume nursing. Since then, he has been healthy and his parents have been able to manage his allergy through keeping dairy from his diet.
Gallery
Community content is available under
CC-BY-SA
unless otherwise noted.