Meredith Grace Duggar (born July 16, 2015) is the fourth child and second daughter of Joshua Duggar and Anna Duggar.
She is the sister of Mackynzie Duggar, Michael Duggar, Marcus Duggar, Mason Duggar, Maryella Duggar, and Madyson Duggar.
Early life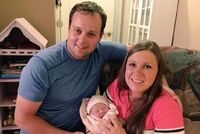 On December 2, 2014, Josh and Anna Duggar announced that they were expecting their fourth child. Anna said that she was nine weeks pregnant. The couple touched briefly on how this birth would be different than their others, due to the family's move from Arkansas to Washington, D.C.: "There are so many questions we are trying to figure out now," Anna said. "Are we going to have a home birth, hospital birth, or a birthing center?". Their pregnancy announcement is featured on the 19 Kids and Counting episode "European Honeymoon".
On March 3, 2015, Josh and Anna announced via Anna's Twitter that they would be having a girl, due July 2015. The couple used this announcement as an opportunity to speak out against abortion, saying: "We're thrilled to announce we'll be welcoming a daughter into our family in July, but thousands of little girls suffer the pain of abortion each day. Help protect these children... #theyfeelpain". Their gender reveal is featured on the 19 Kids and Counting episode "Anna's Having A...". The episode included a gender reveal party thrown by the Duggar family, with the help of family friend Sierra Jo Dominguez, where Josh and Anna learned that they would be having a girl.
In the wake of Josh's molestation scandal, the family had to move back to Arkansas. The family was seen moving out of their Oxon Hill, Maryland home on June 9, 2015, just over a month before Meredith would be born.
On July 1, 2015, Jessa Seewald revealed in the comments of one of her Facebook posts that the baby was due on July 10, 2015.
On July 16, 2015, 19 Kids and Counting was officially cancelled.
Her birth was announced on July 19, 2015. Meredith Grace Duggar was born on July 16, 2015, at her parents' home in Siloam Springs, Arkansas. She weighed 7 pounds and 14 ounces, and was 20 ½ inches long. Of her birth, Josh's mother, Michelle, said:
"Anna did an amazing job through labor. We are just rejoicing with Josh and Anna. Meredith Grace is beautiful and Mackynzie, Michael, and Marcus are just loving having their little sister here.".
In 2009, during an interview with Meredith Viera, Josh and Anna joked about naming their first child, Mackynzie, after her, making people wonder if she was, in fact, Meredith Duggar's namesake. Many speculated that Meredith's middle name was a reference to God showing grace after his teenage indiscretions. The family has neither confirmed nor denied either of these rumors.
Meredith was the first of Josh and Anna's children to not have their birth filmed by a TLC film crew, and the first Duggar child or grandchild to not have their birth filmed by a TLC film crew since Josh's brother, Justin, was born in 2002.
Meredith is described as outgoing, exuberant, having a winsome smile, having bubbly laughter, makes friends easily, having an advanced vocabulary, loves conversing, and a natural leader. She is said to be close with her cousin Spurgeon Seewald.
Career
Education
Along with her siblings, Meredith is currently being homeschooled.
Television
Meredith is frequently featured on the TLC show Counting On.
Wedding involvement
Meredith was a flower girl at her uncle Josiah's wedding to Lauren Swanson on June 30, 2018.
She was a flower girl at her uncle John-David's wedding to Abbie Burnett on November 3, 2018.
She was a flower girl at her uncle Jedidiah's wedding to Katelyn Nakatsu on April 3, 2021.
She was a flower girl at her uncle David's wedding to Hannah Reber on November 19, 2021.
Gallery