Michael James Duggar (born June 15, 2011) is the second child and first son of Joshua Duggar and Anna Duggar.
He is the brother of Mackynzie Duggar, Marcus Duggar, Meredith Duggar, Mason Duggar, Maryella Duggar, and Madyson Duggar.
Early life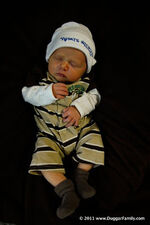 On November 11, 2010, Josh and Anna Duggar appeared on the Today Show to announce that they were expecting their second child, due June 19, 2011. Anna also revealed that they had suffered a miscarriage earlier in 2010. Their pregnancy announcement was featured on the 19 Kids and Counting episode "GrandDuggar's First Birthday". The episode featured Josh and Anna announcing their pregnancy to their family at their daughter Mackynzie's first birthday party.
On March 14, 2011, Josh and Anna announced that they were having a boy. When the couple went to their ultrasound appointment, they took Josh's mother, Michelle Duggar, along so the doctor could tell her the gender of the baby. "We went to the ultrasound and decided that my mom would know. We figured she could handle the secret and then have a surprise sharing of the information with the entire family, including me and Anna", Josh explained in an interview. The two waited more than a week before learning the gender of their child. For the reveal, Michelle hired a plane to write out the symbol for male in the sky for the whole family to see. Their gender reveal was featured on the 19 Kids and Counting episode "Duggars Deliver".
Although Josh and Anna chose to announce the name of their first child, Mackynzie, before giving birth, the couple chose to wait to reveal their first son's name until after he was born.
His birth was announced on June 16, 2011. Michael James Duggar was born at 5:55 p.m. on June 15, 2011, at his parents' home in Fayetteville, Arkansas. He weighed 8 pounds and 5 ounces, and was 21 inches long. The couple had previously planned to give birth to Michael in their home after having a good homebirth experience with their first child. Anna gave birth to Michael on the toilet. Josh's sisters Jill and Jessa were there to assist as well. His birth was featured on the 19 Kids and Counting episode "First Grandson". His first name is in honor of his maternal grandfather, Michael Keller, and his paternal great-great-uncle, Michael Duggar. His middle name is in honor of Josh's middle name, his paternal grandfather, Jim Bob Duggar, and his paternal great-grandfather, Jimmy Duggar. Josh and Anna confirmed that all of their children would have "M" names.
In June 2013, Michael and his family moved to Oxon Hill, Maryland, so his father could start a new job working for the Family Research Council, in Washington, D.C..
In the wake of Josh's molestation scandal, the family had to move back to Arkansas. The family was seen moving out of their Oxon Hill, Maryland home on June 9, 2015.
Michael is described as thoughtful, a hard worker, enjoys working on car repairs and construction projects, sensitive, compassionate, and a great brother.
Career
Education
Along with his siblings, Michael is currently being homeschooled.
Television
Michael is frequently featured on the TLC show 19 Kids and Counting. His birth was featured on the episode "First Grandson".
Michael is frequently featured on the TLC show Counting On.
Wedding involvement
Michael was a ring bearer at his aunt Priscilla's wedding to David Waller on February 4, 2012.
He was a ring bearer at his aunt Jill's wedding to Derick Dillard on June 21, 2014.
He was the ring bearer at his aunt Jinger's wedding to Jeremy Vuolo on November 5, 2016.
He was a ring bearer at his uncle Justin's wedding to Claire Spivey on February 26, 2021.
He was a junior groomsman at his uncle David's wedding to Hannah Reber on November 19, 2021.
Gallery