Samuel Scott Dillard (born July 8, 2017) is the second child and second son of Jill Dillard and Derick Dillard.
He is the brother of Israel Dillard.
Early life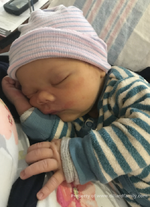 On December 20, 2016, Jill and Derick Dillard announced that they were pregnant with their second child, who was due on July 9, 2017:
"We are so excited to be expecting Dillard baby #2! Children really are a wonderful blessing from God. Having Israel has been such a delight to us that we know a second sweet baby will only continue to add joy to our family. We are thankful to God for this sweet child and we cannot wait to see her or him face to face!"
On January 31, 2017, they announced that they were expecting a boy. On the same day, TLC aired the Counting On episode "Bachelor Pad Makeover", which featured Jill and Derick learning they were pregnant.
On June 6, 2017, Jill and Derick announced that they would be naming their son Samuel Scott Dillard.
On July 3, 2017, the Counting On episode "A Boy or Girl for Jill?" featured Jill and Derick sending many of the younger Duggar siblings on a scavenger hunt to reveal that they would be having a boy.
On July 8, 2017, Derick announced on the couple's blog that Jill had given birth to their second son, Samuel Dillard. After 40 hours of labor, Samuel was born at 1:02 pm via an emergency C-section. He weighed 9 pounds and 10 ounces and was 22 inches long.
In a post on Instagram, posted on April 29, 2020, Jill revealed that he is allergic to dust.
Gallery