Samuel Scott Dillard (born July 8, 2017) is the second child and second son of Derick Dillard and Jill Dillard.
He is the brother of Israel Dillard and Frederick Dillard.
Early life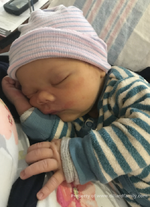 On December 20, 2016, Derick and Jill Dillard announced that they were expecting their second child, due July 2017. Their pregnancy announcement was featured on the Counting On episode "Bachelor Pad Makeover".
"We are so excited to be expecting Dillard baby #2! Children really are a wonderful blessing from God. Having Israel has been such a delight to us that we know a second sweet baby will only continue to add joy to our family. We are thankful to God for this sweet child and we cannot wait to see her or him face to face!"
On January 31, 2017, Derick and Jill revealed that they were expecting a boy. Their gender reveal was featured on the Counting On episode "A Boy or Girl for Jill?". The episode featured Derick and Jill sending many of the younger Duggar siblings on a scavenger hunt around their house to reveal that they would be having a boy.
On June 6, 2017, Derick and Jill revealed that they would be naming their son Samuel Scott Dillard.
His birth was announced on July 8, 2017. Samuel Scott Dillard was born at 1:02 p.m. on July 8, 2017, in Arkansas. He weighed 9 pounds and 10 ounces, and was 22 inches long. Samuel was born via an emergency C-section after 40 hours of labor.
"We are so in love with baby Sam! Thank you for all of your prayers, and for sharing our excitement in welcoming our second son. We are so happy to be together as a family of four!"
On August 9, 2017, Samuel's parents announced that their family would not be returning to Central America for missionary work.
On December 15, 2017, Derick announced that their family would no longer be featured on Counting On. Samuel has never been featured on the show.
In May 2022, Samuel and his family moved from Lowell, Arkansas to Siloam Springs, Arkansas, so that his father could start a new job as an Assistant District Attorney in Stilwell, Oklahoma.
Samuel is described as full of energy and thoughtful. He enjoys snacks, "helping" in the kitchen, being read to, swimming, and building forts and obstacle courses.
Health
On April 29, 2020, Jill revealed that Samuel is allergic to dust.
On March 19, 2022, Jill revealed that Samuel tested positive for COVID-19.
Career
Education
Samuel will either be homeschooled or enrolled in public school growing up.
Social media
Samuel is often featured in sponsored posts on his mother's Instagram account for children's clothing or toys from Christian companies and Magic Spoon Cereal.
Gallery