Spurgeon Elliot Seewald (born November 5, 2015) is the first child and first son of Ben Seewald and Jessa Seewald.
He is the brother of Henry Seewald, Ivy Seewald, and Fern Seewald.
Early life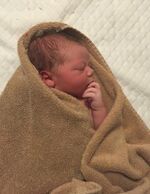 On April 21, 2015, Jessa Seewald announced via Twitter that she and Ben Seewald were expecting their first child, due November 1, 2015, their first wedding anniversary.
On June 17, 2015, Ben and Jessa posted an update on their blog, saying;
"Baby Seewald is growing steadily and Mommy has been feeling some little, yet strong, kicks! We recently had an ultrasound, but aren't revealing our firstborn's gender yet. Can't wait to welcome this blessing from God into the world!"
Ben and Jessa teased the gender of their child many times across social media, even including a poll where fans could vote on what they thought the baby would be, but ultimately, they did not reveal the gender before the child's birth.
On November 6, 2015, Ben and Jessa announced that their baby was a boy and that he was born at 6:24 p.m. on November 5, 2015, at their home in Fayetteville, Arkansas. He weighed 9 pounds and 11 ounces, and was 21 ¼ inches long. Jessa had post-birth hemorrhaging after his delivery and had to be rushed to the hospital. The birth was assisted by a midwife, Jessa's mother Michelle, and Jessa's sisters Jana, Jill, and Jinger. They didn't reveal his name at that time. His birth was featured on the Counting On episode "Counting One More".
On November 11, 2015, his name was revealed to be Spurgeon Elliot Seewald. His first name was chosen in honor of Charles Spurgeon, a nineteenth century British preacher. His middle name was chosen in honor of late missionaries Jim and Elisabeth Elliot.
"One guy that has really impacted my life is a great preacher of the past, Charles Haddon Spurgeon," Ben said when announcing his son's name. Jessa added, "We want to give him a strong name, with a lot of meaning.".
Spurgeon is described as sweet-hearted, talkative, funny, creative, thoughtful, and loving paper airplanes, coloring pictures, shaping Play-Doh, imaginative play, and reading picture books.
Career
Education
Along with his siblings, Spurgeon is currently being homeschooled.
Television
Spurgeon is frequently featured on the TLC show Counting On. His birth was featured on the episode "Counting One More".
Wedding involvement
Spurgeon was the ring bearer at his aunt Michelle's wedding to Elijah Barger on October 10, 2020.
Gallery